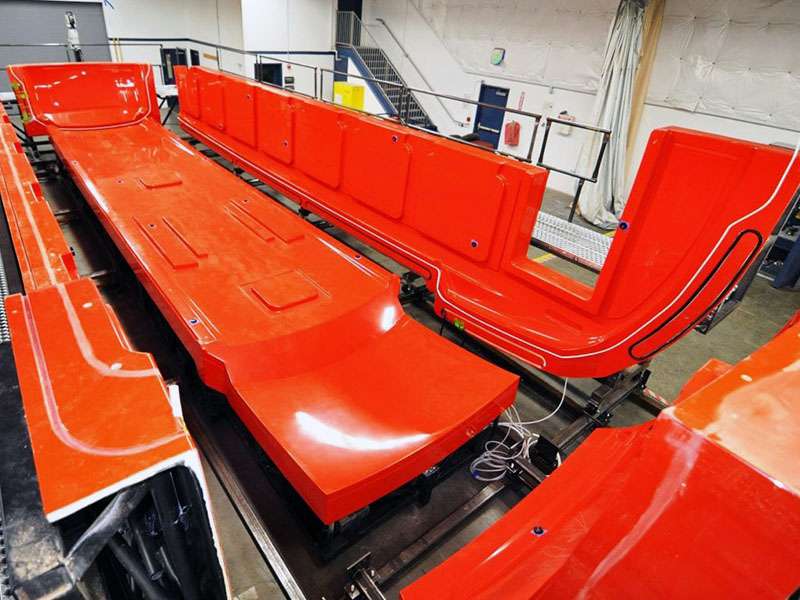 Composite Tooling
Putty, Block Foam, Wood, Composites, Metals
Tooling
JI Proprietary Putty Patterns
Strong wooden substructure, foam, fiberglass and in-house engineered putty
Machined to specific tolerances
Extremely accurate and very fast turn-around at an economical cost
Easy-to-sand surface can be finished to 80 grit or given a machined primer surface and sanded to a finer finish.
Male or female shapes are available depending on application and geometry provided.
Designed for room temperature applications, but can be modified to withstand temperatures up to 180ºF
Primer surface option available
Laser tracking and vacuum integrity options available
Block Foam Patterns & Wood Patterns
Machined pattern fabricated out of block foam, MDF or modeling board.
Block foam allows for the maintenance of higher tolerances and can reach higher curing temperatures than the JI proprietary putty patterns
Medium Density Fiberboard (MDF) wood is stable at higher temperatures than putty, however the surface finish may be rougher.
MDF is also a suitable material for casting patterns.
Foam patterns can also be provided with a primer finish.
A wide variety of foam materials and densities are available depending on your application.
Short Run Molds
Using JI's putty material system, we make short run molds for one-off or short-production production runs. By shipping in segments and assembling onto a steel frame, there is virtually no limit to the size of the part.
Gel Coat Tooling
Janicki's Gel Coat tooling is designed with hard, durable, high-gloss surfaces required to produce superior grade products for marine, transportation and architectural industries. Our Gel Coat molds have mirror-like finish, that are scratch and craze resistant for producing products with high-quality finish.
Janicki Gel Coat molds are made of fiber-reinforced composites low shrink performance polyester resins using infusion or open molded processing in a typical thickness of 0.625 inches.
Fiberglass Facesheet
200°F Temp Tooling
200+ Part Cycles
Trussed Steel Frame
400 Grit and higher finish
Resistance to ultraviolet degradation and hydrolysis
Produce aesthetically appealing parts
Long-lasting maintenance-free performance
Protective barrier that increases the life and cycles of the mold
Fiber Reinforced Plastic Tools
Molded from machined patterns; built to customer specifications. Composite consists of varying thickness fiberglass layers, a rigid balsa or foam core, and a durable tooling gel-coat finish. We have engineered FRP mold systems up to 220 feet in length.
250° Composite Tools
Carbon fiber or fiberglass composite tools, surface finishes optional depending on customer needs.
Cast 250° Tool
Also referred to as molded or transfer tools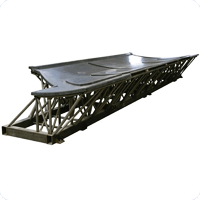 Infused on a highly accurate machined pattern
Use Temperature: 250° F
Tolerances: up to ± .010″
Support: Steel tubing or composite egg-crate
Machined 250° Tool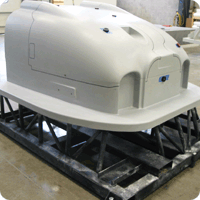 Machined tools provide higher accuracies than cast
Includes laser tracking reports and vacuum verification
Use Temperature: 250° F (modifications can provide a 300° use temperature)
Tolerances: ± .005″ – .015″
Support: Steel or composite egg-crate
350° Composite Tools
Our 350° tools are a carbon fiber or fiberglass tool infused with an epoxy resin formulated to customer specifications. These 350° tools are available in two variations: cast and machined. Machined tools allow for the maintenance of higher accuracies. These 350° tools are provided with laser tracking and vacuum verification is performed to ensure conformity.
Cast 350° Tool
Cast 350° tools are infused on a highly accurate machined pattern and produce an accurate tool with optional surface finishes.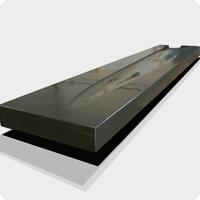 Use Temperature: 350° F
Tolerances: up to ± .010″
Support: Composite egg-crate
 Machined 350° Tool
Machined 350° tools are infused on a pattern and machined on its support structure with our 5-axis mills.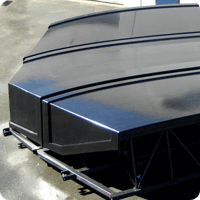 Surface is extremely accurate and finished to exact specifications
Use Temperature: 350° F
Tolerances: ± .005″ – .015″
Finish: Machined; 32 rms typical
Support: Steel or Composite egg-crate