5-Axis NC Mill
Janicki Industries' extra-large, 5-Axis, gantry style CNC machines are designed, built, programmed and maintained by Janicki. Rotary axes on the machines have continuous
contouring capabilities. These CNC Mills are well suited for the high-tolerance, large-structure tools and aerospace parts we produce. We cut carbon and fiberglass composites, Invar, steel and aluminum.
Large Scale:


100ft x 20ft x 8ft

High Precision:


+- .002 tolerance

Adaptable:


Composite and Metal
JANICKI MILLS
ENGLISH UNITS
ENVELOPE SIZE
Mill #1 – WA
68ft x 19ft x 8ft
Mill #2 – WA
88ft x 19ft x 8ft
Mill #3 – WA
40ft x 12ft x 5ft
Mill #4 – WA
57ft x 14ft x 7ft
Mill #5 – WA
100ft x 20ft x 8ft
Mill #6 – WA
100ft x 20ft x 8ft
Mill #7 – UT
18ft x 14ft x 6ft
Mill #8 – UT
18ft x 14ft x 6ft
Mill #9 – UT
80ft x 14ft x 6ft
Mill #10 – UT
60ft x 8ft x 4ft 8in
Production Autoclave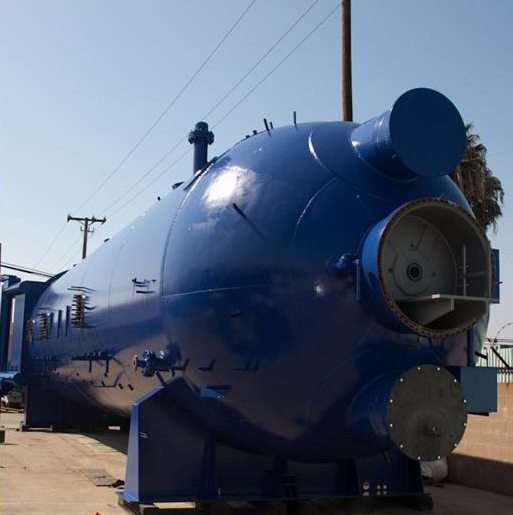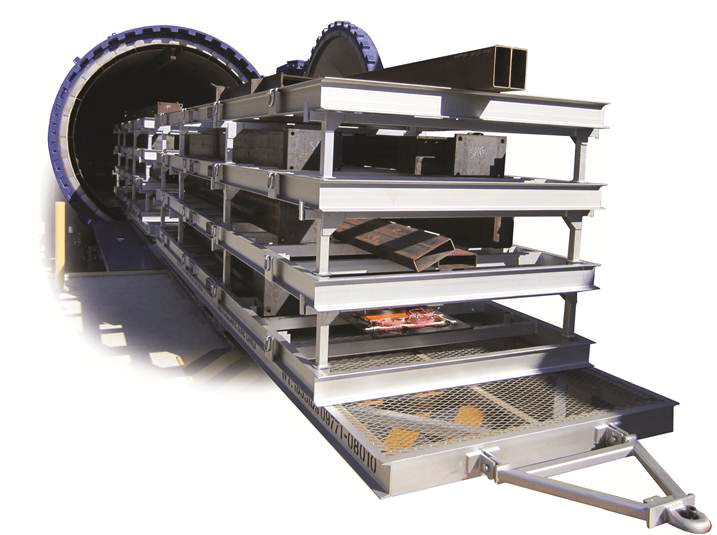 Autoclave pressure and heat for high-temp composite fabrication
Diameter: 12 feet
Length: 50 feet
Pressure: 150 psi
Max load: 50,000 lbs
Temperature: 550ºF
Baseline Requirements:
Lab Autoclave
500°F/260°C
150psi/10.5Kg/cm
30in/.76m diameter, 36in/.91m deep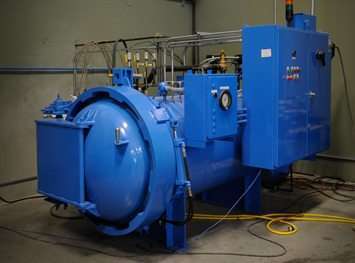 Bringing Value with 1,100 Ton Press
Janicki Industries offers custom forming for your complex metallic projects. Our new 1,100 Ton Forming Press is one of the largest in the United States and specializes in the forming of double curved panels. Our operators are trained and experienced and ready to meet your metal forming needs. The press is suitable for bending, stretching and rolling. This combination of three functions makes the press extremely universal.
Features
1,100 Tons of Pressing Capacity
Synchronized Automatic Tooling Rotation
Integrated Cranes
Programmable Logic Controller (PLC) System
Stabilization Dampers
Cylindrical and Convex Rollers
Variety of Stamps and Dies
Capabilities
Forming up to 3" Thick
Maximum Width = 10'
Maximum Length = 40'
Efficient Cold Forming: Rolling, Spot Stretching and Bending techniques in a single press
Complex curvature
Tight tolerances
Quality Inspection Reports
Internally developed forming  macro enables optimization of break-line density
Other Equipment
Complete set of Machine Tools
Haas SL-20 CNC lathe
Republic Lagun RL014X40 manual lathe
Mazak VTC-300C vertical mill
Bridgeport EZVISION mill
MAZAK VARIAXIS i800 5-AXIS NC Mill
Mitsubishi MHT – 1618 Horizontal Boring Mill
CNC Waterjet Cutters
Ward 2-Axis Waterjet

12ft x 40ft x 10in/3.4m x 12m x 25cm

Flow 2-Axis Waterjet

6ft x 12ft x 10in/1.8m x 3.4m x 25cm
CNC Router
Komo Router 3-axis
5ft x 10ft x 12.5in/1.5m x 3.1m x 3.8m
American GFM US-50 3D
Ultrasonic Cutting Machine
6-Axis Ultrasonic 3D Cutter
Max cutting zone 72′′ x 145′′
Dust free profiling
Precision cutting accuracy
Clean finish surface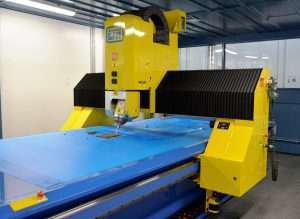 Genesis Non-destructive Testing (NDT) 115 Equipment
Robotic Inspection Workcell
Non-destructive testing and inspection of complex composite aircraft parts
Inspection Work cell 12' x 40'
Ultrasonic multi-frequency Pulse-Echo (PE) and Thru-Transmission (TTU) Scanning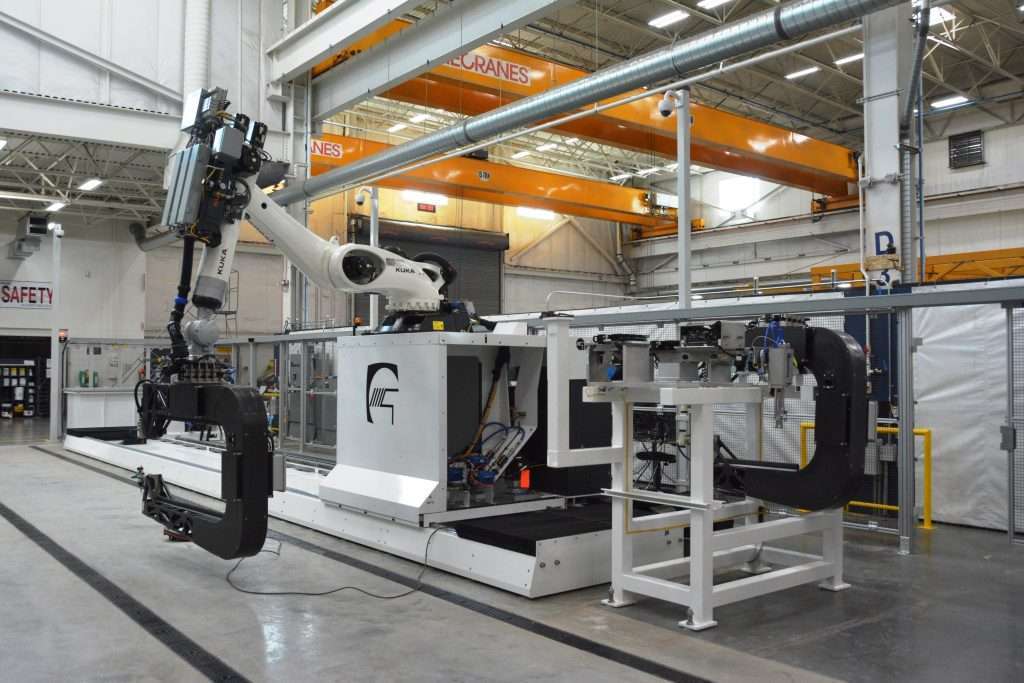 Doosan VM 960L
Vertical Machine Center
Long-Term, High-Accuracy, Superior-Finishes
95" x 38" x 32" Travel Distance
630 Inches Per Minute
9,920 lb. max load
6,000 RPM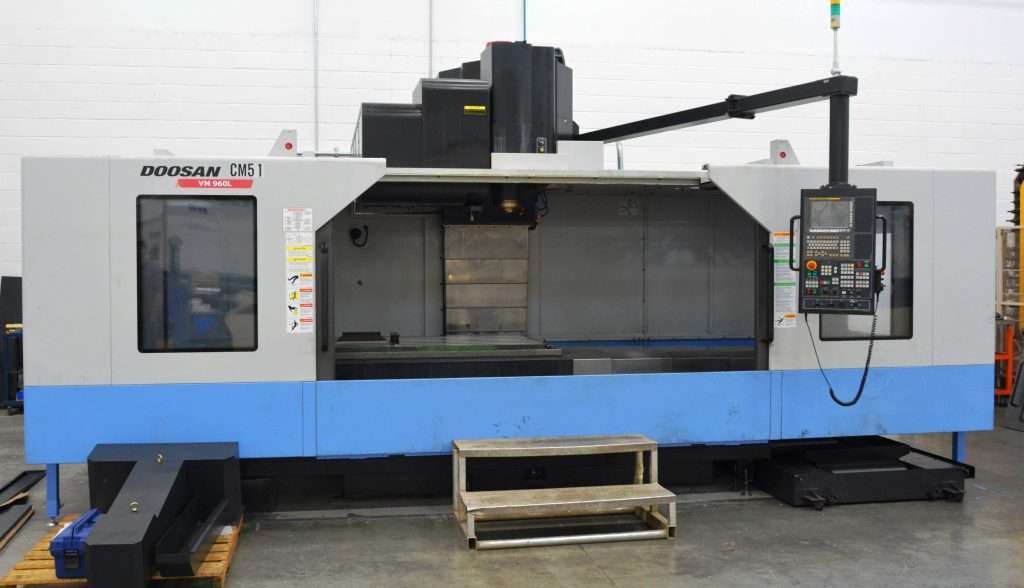 DMG Mori NHX 5000
Full 4-axis milling
28" x 28" x 34" Travel Distance
2362 ipm rapid traverse / 1G acceleration
15,000 RPM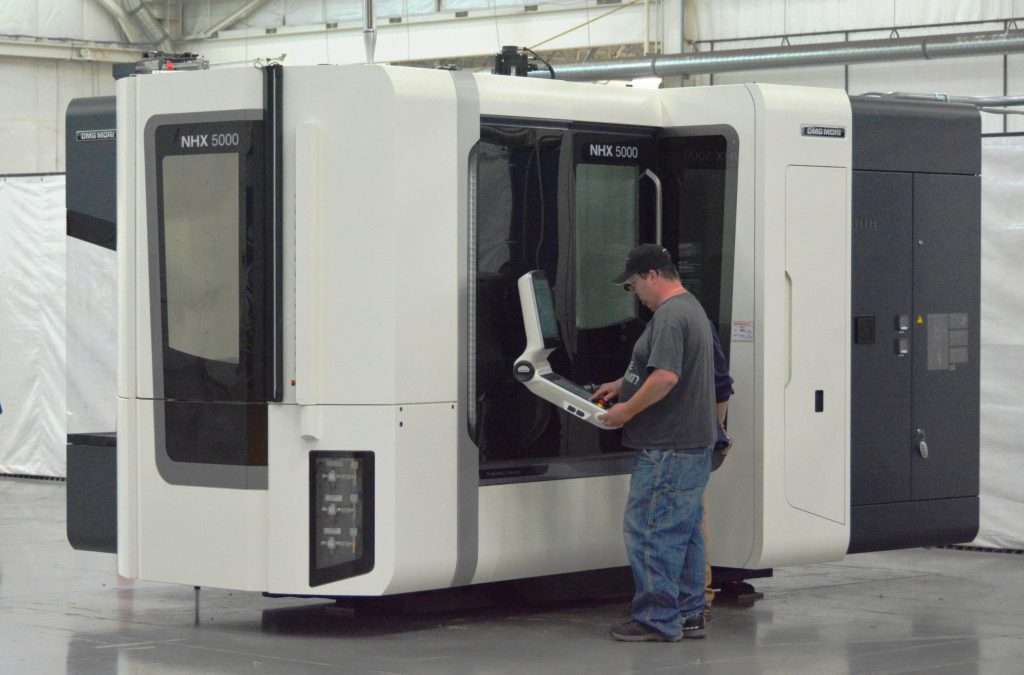 Zimmermann 5-Axis CNC Mill
The Zimmermann Mill is a 5-Axis CNC Milling machine with a gantry structure and vertical spindle orientation. Its rotation speed is up to 25,000 RPM, feed rate of 787 inches per minute (IPM) and a 24-bit tool changer. This 5-Axis CNC milling machine is well suited for the milling services we do to produce aerospace structures like stringers, frames, bulkheads and skins.
Its travel spans are:
X-Axis Travel 248 inches
Y-Axis Travel 132 inches
Z-Axis Travel 59 inches
Its part envelope is:
X-Distance 866 inches
Y-Distance 355 inches
Z-Distance 217 inches
Overall Accuracy is:
0.002 inches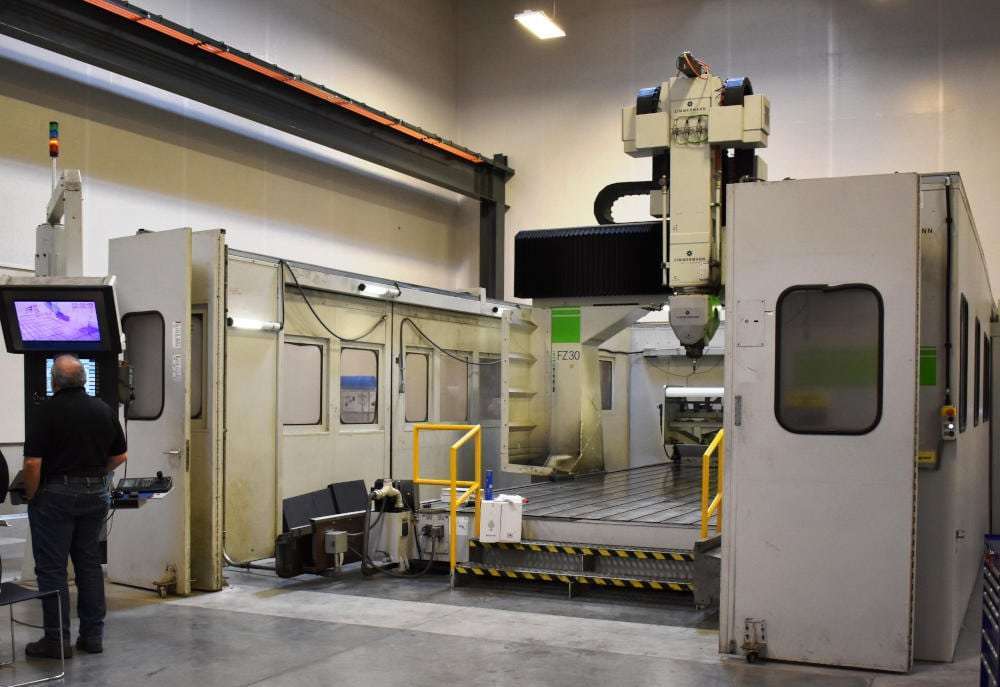 Zimmermann FZH400 5-Axis CNC Mill
This Zimmermann Mill is a 5-Axis CNC horizontal Mill with an automatic pallet changer, Automatic Tool Changer for up to 72 tools, laser tool setter, dust extraction system, spindle probe and vacuum system. Its rotation speed is up to 24,000 RPM utilizing a 47 HP motor with a torque of 30-ft-lbs. This Zimmermann mill is highly proficient for producing aerospace, fly-away parts made of carbon fiber materials.
Its part envelope is:
X-Distance 161.4 inches
Y-Distance 62.9 inches
Z-Distance 25.5 inches
Max part size: 160"x60"x25"
Overall Accuracy is: 0.002 inches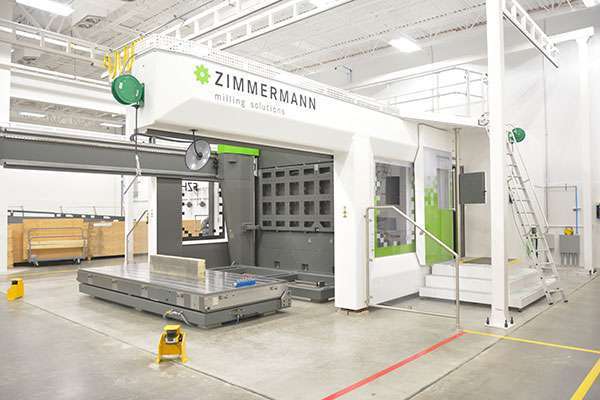 Robotic Weld Cell 1
(Small parts cell)
Kuka KR10 R1420
Automated welding of medium/high volume small parts
Miller Auto-Axcess E-300
In process of qualifying to AWS D14.1
Robotic Weld Cell 2
Kuka KR16 L8 ArcHW
Automated welding. 375 individual welds per assembly
Miller Auto Continuum 350
7th Axis rotary table from Preston Eastin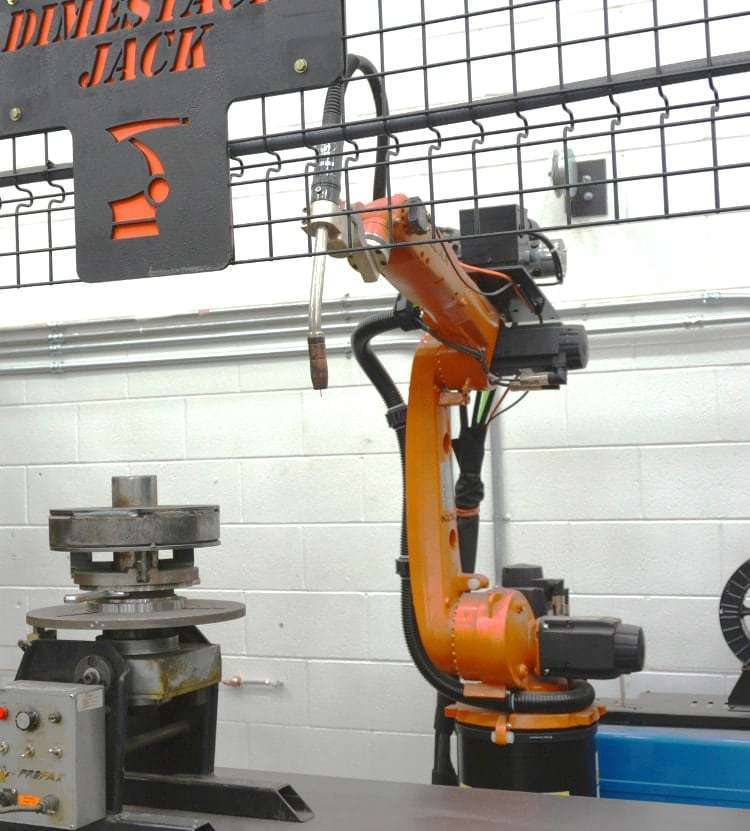 NO.
MACHINE
TYPE
MAX PART SIZE
(X x Y x Z)
MAX RPM
HORSEPOWER
MAX PART WEIGHT (LBS)
FEATURES
1
Republic-Lagun 1440
Manual Turning Lathe
Large Chuck Max Part Size:
14″ OD x 3″ Long
Small Chuck Max Part Size:
Combinations up to 9″ OD x 34″ long
8P: 1,000
4P 2,000
25
2.5
2
Haas SL20
CNC Turning Lathe
Max Part Size:
10.3″ OD x 20″ long
Min Part Size:
0.06″ OD x 0.5″ long
4,000
20
Tool touch setter,
magazine bar feeder
(max stock OD is 2″)
3
Bridgeport
Manual 3-Axis Mill
26″ x 9″ x 8″
2,000
2
500
4
Doosan VM 960L
CNC 3-Axis Mill
90″ x 34″ x 23″
6,000
20
9,000
Tool touch setter
5
Mazak VTC-300C
CNC 3-Axis Mill with
Optional 4th Axis Rotary
62″ x 27″ x 18″
12,000
25
3,000
Tool touch setter,
Optional 4th Axis Rotary
6
DMG Mori NHX 5000
CNC 4-Axis
Horizontal Mill
26″ x 26″ x 26″
15,000
24.7
350
Tool touch setter,
Spindle Probe
7
Mistubishi M-HT1416B
CNC 4-Axis
Horizontal Mill
75″ x 56″ x 39″
1,900
30
5,000
8
Mazak Variaxis i800
CNC 5-Axis Mill
26″ x 31″ x 14″
10,000
40
2,000
Tool touch setter,
Spindle Probe
Ovens
400°F/204°C modular oven – 100ft x 24ft x 14ft/30m x 7m x 4m
500ºF/260°C modified Despatch oven – 30ft x 10ft x 10ft/9m x 3m x 3m
250ºF/121°C – 40ft x 20ft x 10ft/12m x 6m x 3m
Multiple modular tent ovens
2 Wisconsin ovens – 500°F/260°C
2 testing ovens – 500°F/260°C
Annealing Furnace
1600°F/871°C
72ft x 24ft x 11ft/22m x 7m x 3.4m
Heat distribution delta T 35°F/19.4°C
Semi-truck accessible
Modular for expansion to 108ft/33m
Weld Tools
Eight modular weld tables can be configured as needed
Each table 18ft x 18ft/5.5m x 5.5m
Surfaces laser tracked for accuracy (±.02in/.05cm)
Two 25 ton/22.6 metric ton capacity cranes in Invar shop
4 Fronius push/pull pulsed GMAW welding machines
Lincoln and Miller welding machines
Tube and pipe pinch/bend machine
AWS Certified Processes For:
GMAW-P Invar36*
GTAW Invar36*
GTAW Aluminum Alloy 6061 and other M23 alloys
GMAW Aluminum Alloy 6061 and other M23 alloys
FCAW steel
GMAW steel
FCAW stainless steel
*Invar welding processes certified per AWS D1.1 standards
Laser Trackers
Leica LTD 500
Leica LTD 600
Leica LTD 800
5 – Leica AT901-LR Absolute Trackers
Leica T-Cam/T-Probe
5 – Leica T-Cam/T-Probe II
Laser Radar Scanners
Metris L260
2 – Metris M 260