Fun Events
Janicki hosts many fun events for employees and encourages community involvement. Here are a few of our recent activities:
Plant-to-Plant
Employees can participate in our annual Plant-to-Plant event. Participants have the choice to walk, run or ride a bike the 10-mile trek of the Cascade Trail between our Highway 20 and Hamilton facilities. There are expansive fields, mountain views, quiet streams, and opportunities for wildlife views throughout. There are refreshments and prizes at the end.

---
4th of July Parade
Janicki participates in the annual Sedro-Woolley 4th of July Loggerodeo Grand Parade. Our floats are designed, built and operated by Janicki employees, and vary in design year-to-year. The float is pulled by four 2,000 pound Belgian draft horses owned by the Janicki family.
---
Ski-to-Sea
Janicki employees team up to compete in the annual Ski-2-Sea competition, a multisport relay race that runs from Mt. Baker to Bellingham Bay.

---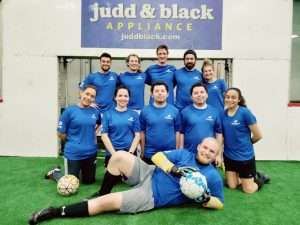 Soccer Team
Janicki sponsors a coed employee soccer team in Bellingham. Employees can join 8-week leagues which run year-round.