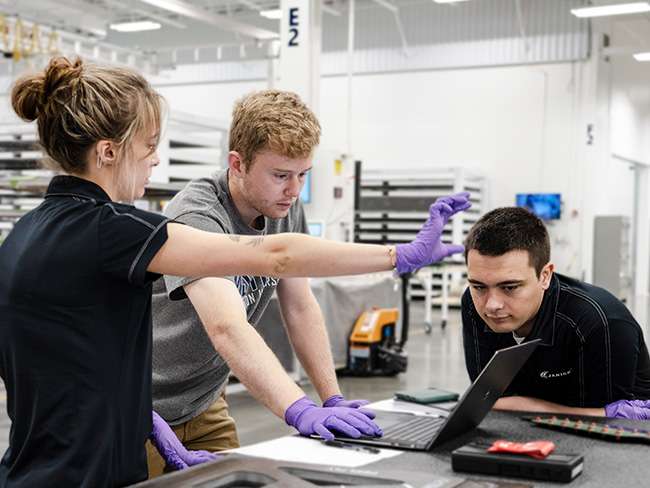 Internships
Why intern with Janicki?
Janicki strives to make the intern experience a unique one. Our interns are embedded in our teams and work on a complex array of projects throughout the summer. Interns get exposure to varying engineering disciplines including design, stress analysis, manufacturing, project management, automation and controls, among others. Experiences are a mixture of work at a computer, in collaborative groups, and time on the floor working hands-on. There are multiple intern events throughout the summer including a kickoff breakfast, meet and greet with executives, and off-site luncheon and games with our CEO. Janicki internships are highly-sought after, with successful interns receiving job offers to join our team after the program.
Qualifications:
Desire to work on a multidisciplinary team creating solutions for complex engineering challenges
Must be currently enrolled at an ABET accredited four-year university or college
Strong interpersonal skills and ability to collaborate in a fast-moving team environment
Hands-on experience through engineering project teams, lab research, or through a prior relevant internship or work experience
Applications for internships are accepted when an intern position is posted. To apply go to our job openings page and look for Interns.
When are Internship Opportunities Available?

Interns must be available full time for a minimum of 12 weeks. Summer (May – Sept)
What Locations Hire Interns?

Layton, Utah
Sedro Woolley, Washington
Hamilton, Washington
Are International Students Eligible to Apply to Internship Opportunities?

No, To conform to U.S. Government space technology export regulations, applicant must be a U.S. citizen, lawful permanent resident of the U.S., protected individual as defined by 8 S.C. 1324b(a)(3), or eligible to obtain the required authorizations from the U.S. Department of State. Learn more about ITAR here.
Does Janicki Industries Provide Employment Sponsorship for F-1 Visa Students?

No, Janicki Industries is unable to provide employment sponsorship to students on F-1 visa status.
Are Internship Opportunities Paid and Can I Receive Course Credit for Them?

Internships at Janicki Industries are paid, and can also be used to satisfy course credit at the discretion of your university. Please note that as an intern at Janicki Industries you may work on proprietary, sensitive, and/or ITAR controlled projects; as such, we are unable to allow presentations, papers, or reports on the work you complete at Janicki Industries. If necessary, however, we will be pleased to confirm the dates of your employment to your university or instructor, and provide a brief overview of the types of experience internships provide.
Our interns get involved in all kinds of projects at Janicki Industries. Here are a few examples:

Advanced Composite Materials for NASA

Assisting with design, analysis, lay-up and assembly of parts and assemblies for the NASA Orion Space project.

Commercial Airliner Tooling

Work with our professional aerospace engineers to design very large tools for composite fuselage bodies. Or working in a cleanroom assembling critical components for composite airplanes.

Composites in Defense

Assist with exchanging information between other Defense contractors to design and build parts and tools for some of the most advanced military projects currently underway.

Tooling for Windmill Blades

Conceptualizing a collapsible transport container for moving wind turbine generators from the factory to the field.

Research & Development

Work with our JI scientist in our R&D Lab measuring and analyzing the strength, durability, and reliability of composite parts for jets.

Composites in Architecture

Preliminary sizing and optimization of a novel architectural roofing system for a large scale commercial building.

Internal Processes and Standards

Engineering standard components for an internal company library.